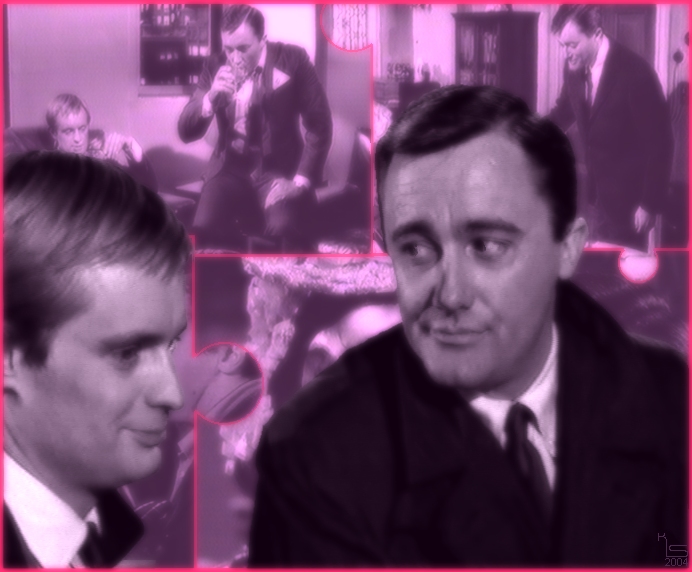 Art by Kei
Safe from Harm
Please DOWNLOAD the vid, do not play them from the web site!
For disclaimers, other information and feedback, se my Main Vidpage
This is about two men who work and fight together, and look after each other, often of the expense of their current mission. They are partners, friends and each others anchor in a violent and unpredictable world.
It's in B/W since it is based on Season 1 material.
Many thanks to Kei for the lovely illustration and to Jane for all the great suggestions and feedback for this vid.
Safe from Harm 43 MB .rmvb
Safe from Harm
Midnight ronkers
City slickers
Gunmen and maniacs
All will feature on the freakshow
And I can't do nothing 'bout that, no
But if you hurt what's mine
I'll sure as hell retaliate
You can free the world you can free my mind
Just as long as my baby's safe from harm tonight
You can free the world you can free my mind
Just as long as my baby's safe from harm tonight
I was lookin' back to see if you were lookin' back at me
To see me lookin' back at you
Lucky dippers
Crazy chancers
Seems to be moving fast
What happened to the niceties
Of my childhood days
Well I can't do nothing 'bout that, no
But if you hurt what's mine
I'll sure as hell retaliate
I was lookin' back to see if you were
I was lookin' I was lookin' back to see if you were lookin' back at me
To see me lookin' back at you
You can free the world you can free my mind
Just as long as my baby's safe from harm tonight
You can free the world you can free my mind
Just as long as my baby's safe from harm tonight
Tell us what it is dangerous
Friends and enemies I find it's contagerous
And they're spreading through your system like a virus
Yes the trouble in the end it makes you anxious
I was lookin' back to see if you were lookin back at me
To see me lookin back at you
I was lookin' back to see if you were lookin back at me
To see me lookin back at you
But if you hurt what's mine
I'll sure as hell retaliate
You can free the world you can free my mind
Just as long as my baby's safe from harm tonight
You can free the world you can free my mind
Just as long as my baby's safe from harm tonight